PRESIDENT'S MESSAGE
This will be an exciting year guided by our theme:
"Great is your Faithfulness for such a time as this"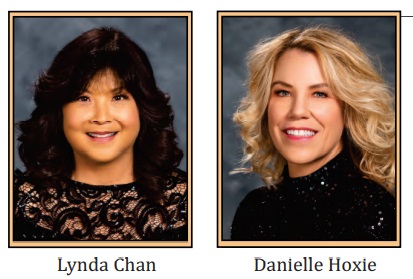 Uncertain times can be challenging for any nonprofit organization and ours is no exception. We started our Medical Auxiliary year without a President. Then Lynda's husband, Raymond Chan, (SM '85) suggested that she and Danielle be CoPresidents because the mission of the auxiliary was too important to let go. Both Lynda and Danielle prayed about it, and Russell Hoxie, (SM 88′) concurred and here we are, humbled by this new opportunity and willing and ready to serve you as we strive to be the hands and feet of Jesus. Together with our dedicated team of board members, your support and God's guidance, no pandemic can keep us from pursuing our mission!
This year we decided on the theme of faithfulness. "Because of the Lord's great love we are not consumed, for His compassions never fail. They are new every morning; great is your faithfulness." – Lamentations 3:22-23.
We can choose to refresh, recharge and restart each morning with prayer and God's promises throughout the day. He will take our darkest moments, yes even during this pandemic and use it to His glory!
We remember how God has led our Auxiliary in the past, and that gives us hope for the future. "For the Lord is good, and His love endures forever. His faithfulness continues to all generations." -Psalms 100:5.
Here are a few examples of how God has channeled your faithfulness and support to help so many here in our community and around the world:
Over one million dollars donated to Missions around the world in the past 10 years
Little White House continues to meet the needs of both our medical students in addition to those on our entire LLU campus
Our God is so faithful, how can we be less? We will continue to do our best for our local board, and although meetings are looking a lot different these days, the energy and focus is on following Jesus' example of faithfully blessing those in need. As budgets are strained with Covid-19, the requests for help have become even greater. To name just a few, a Digital X-ray Machine in Honduras to a Surgery Center in TChad to Personal Protective Equipment (PPE) in Nepal – how can we allow our missionaries not to have proper protection?
We are calling on our members to be even more faithful. We are praying for guidance in setting our yearly mission fundraising goals and local Little White House budget.
Please pray with us and for us as we stretch funds to meet needs and witness how God provides through your generosity. We hope that you all are keeping healthy and safe during this time.
In His Love,
Lynda and Danielle